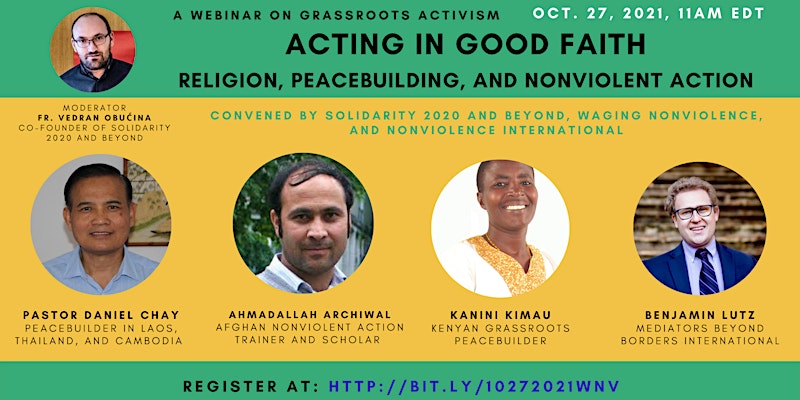 Nonviolence International is excited to once again welcome our amazing partner, Solidarity 2020 and Beyond. We are grateful for the opportunity to work closely with them and invite you to join us at our second co-sponsored public event. Along with our former partner, the amazing Waging Nonviolence, we are hosting an important webinar on religion and nonviolent action. 
Wednesday, October 27 at 11:00 am ET
How can people of faith contribute to nonviolent initiatives for peace, human rights, and sustainability?
About This Event
Some people of faith support oppression, division, and violent conflict, but many others are searching for ways to make a positive contribution to broader movements for rights, freedom, and justice through the practice of peacebuilding and nonviolent resistance. In this interactive webinar. co-sponsored by Solidarity 2020 and Beyond, Waging Nonviolence, and Nonviolence International, participants will interact with moderator Fr. Vedran Obucina, and panelists Pastor Daniel Chay, Elizabeth Kanin Kimau, Ahmadullah Archiwal, and Benjamin Lutz, in order to explore the latter option. The two key questions to be addressed are how can peacebuilders and civil resisters reach out to sympathetic religious people to build stronger coalitions for positive change, and how might people of faith make useful contributions to such nonviolent initiatives?
Moderator
Fr. Vedran Obućina is a Croatian political scientist, theologian, and a priest in the Orthodox Old-Catholic Church, engaged in religion-based peacebuilding in the Balkans, Caucasus, and Middle East. He is a PhD researcher at the University of Regensburg (Germany), IEP Ambassador, Rotary Peace Fellow from Chulalongkorn University 2020, and co-founder of Solidarity 2020 and Beyond.
Panelists
Pastor Daniel Chay is a founder and Senior Pastor of the New Life Church of South Philadelphia, Pennsylvania. In 2019, he was a participant in nonviolent action trainings in Burma and Indonesia. Since 2001, he has worked on building and organizing the Christian Churches Peace Network in Laos, Thailand, and Cambodia. He also has promoted interfaith dialogue in those countries among Christians and Buddhists to encourage solidarity and collaborative nonviolent initiatives. He is a member of Solidarity 2020 and Beyond's Global Grassroots Action Network.
Elizabeth Kanini Kimau is a Kenyan Grassroots Peace Builder. She is the founder of Horn of Africa Grassroots Peace Forum (HAP-Forum). She has twelve years' experience in building a culture of peace in regions fragmented by prolonged inter-ethnic violence (Northern Kenya and South Sudan). In her peace work, Kanini focuses on capacity building for grassroots people who are affected by violent conflicts to be agents of their own peace. Currently she is a PHD student at Centre for Nonviolence in Durban University of Technology (South Africa).
Ahmadallah Archiwal is an Afghan scholar-activist who has written books and manuals on nonviolent action and conducted several Nonviolence and Civic Mobilization trainings for grassroots activists across several provinces of Afghanistan including Kunar, Khost, Kabuk, Kunduz, and Paktia. His research speciality is on nonviolent campaigns from the Islamic world, including the Khudai Khidmatgar movement that was waged in today's Khyber Pakhtonkhwa by Khan Abdul Ghafar Khan.
Benjamin Lutz is the Director of Communications and Operations for Mediators Beyond Borders International (MBBI) a global organization and network of mediators that support international peacebuilding efforts through effective mediation. He is also an IEP Peace Ambassador and a Rotary Positive Peace Activator. Furthermore, he is currently a Ph.D. student in Religion/Reconciliation/Peace at the University of Winchester focusing on interfaith dialogue efforts in Oman and Lebanon.
All paid tickets will help support the webinar co-sponsors.
If inspired by their work, please consider making a donation. 
---
Who We Are?
Solidarity 2020 and Beyond is a global network and initiative that is truly activist-driven and movement-centered, driven by bottom-up people power, local wisdom and needs.
Why Did We Start?
Solidarity 2020 and Beyond was created in the key year of 2020, a historic "tipping point"

when COVID-19 hit. Based on urgent requests of numerous grassroots activists from diverse struggles around the world, we conceived of and launched Solidarity 2020 and Beyond. We organized convenings, one-on-one and group discussions, surveys, resource mappings, and data gathering to receive direction and input from numerous grassroots activists. Additionally, we did consultations and received advice from a diverse group of scholar activists and journalists working in the field. 
  What Are Our Goals?
The aim of the SOLIDARITY 2020 and Beyond is to work in solidarity with grassroots activists to enhance strategic nonviolent resistance training, convening and networking, psychosocial support and sharing best practices and information across and within movements. We provide interactive webinars and brainstorming sessions, participatory research and data gathering projects, resource files, a media plan that includes blogs, vlogs, online articles, and podcasts.
We want to build people power and mobilize effectively to fight for change to create a world that is more equal, just, peaceful, and provides dignity for all.
Visit their website to learn more about their organization
Inspired to Give to Support this Vital Work - Donate Here